Detectus HRE Series EMC high-resolution scanners with 3D or 4D scanning
The new industry standard for EMC scanning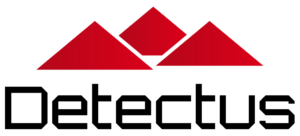 Ultra-high-resolution scanning
The Detectus HRE series comes in two different sizes to fit most DUTs and combines an ultra-high scan resolution of 25 μm with probe head rotation, and the best-in-class scanning software to deliver powerful visualisation of EMC tests. An optional IC scan kit, with a dedicated inspection camera and high-resolution near-field probes, lets you even scan for emission and immunity hotspots inside an IC.
How do you perform EMC scanning?
A complete scanner system consists of the EMC scanner hardware package, the Detectus scanning software (DSS), a spectrum analyser and a PC to run the scanner software.
The test object is put on the coordinate board and a small near-field probe is moved in a controlled and repeatable path above the test object, registering the field strength. The probe output signal in every position is measured by the spectrum analyser and transferred to the scanner software. The smart software combines the spatial information (X,Y,Z) with the spectrum in that position, and presents detailed results.
Need a spectrum analyser?
Take a look at our range of spectrum analysers or ask our test and measurement team for expert technical assistance and sales support.
Leading performance from the Detectus designers
With the 25 μm step size of the scanner, you can pinpoint emission sources in densely packed designs. You can even follow emission hot spots inside an IC, using the IC option.
Users can scan emissions up to 10 GHz, with the standard Pendulum Probe kits. If the user has near-field probes going up to higher frequencies, e.g. 70 GHz, these can normally be attached and used for EMC scanning. The software has no limits, but you must of course use a spectrum analyser that supports the frequency range.
Within the Detectus HRE series, you can choose from two different sizes, with or without probe rotation, to fit most test objects. The scan area (WxDxH) is:
280x180x85mm (3D or 4D*)
390x290x130 mm (3D or 4D*)
* 4D = 3D xyz movement, plus probe rotation 0 to 360 degrees.
Want to talk to one of our technical team about Detectus EMC scanners? Our dedicated test and measurement equipment team can provide expert technical advice and help you find the right products for your applications and test requirements.