High-speed optical plug-in card with selectable data rate
MPO-38388-BFCXA-01A from Micropac Industries, Inc
Rapid advancements in technology have led to more reliance on modular solutions to accommodate future upgrades without requiring a complete system re-architecture. The VITA FMC I/O mezzanine card was developed to fill this modular design architecture niche.
The MPO-38388-BFCXA-01A from Micropac is a 2 to 10Gb FMC Optical Transceiver Mezzanine PCB. It is a VITA-compliant, SOSA-aligned FMC optical transceiver card for digital data transport in next-generation data distribution and signal intelligence systems. These optical transceiver cards offer system designers a faster time to market at a lower system cost by leveraging configurable performance in a common 3U pluggable VITA-compliant mezzanine form factor through the reuse of common mechanical, electrical standards.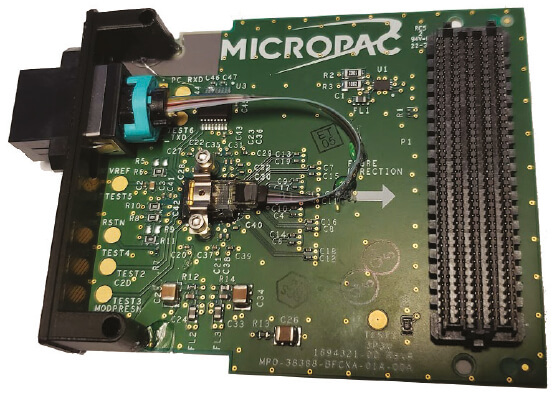 MPO-38388-BFCXA-01A has independent rate channels and is VITA 57.1 FMC compliant, ANSI/VITA 48.2 conduction cooled and VITA 47 harsh environment compliant. This product features up to four (4) 10G (FMC) optical ports per transceiver (single, dual, and triple TxR options available) via harsh environment MT connector front panel I/O. The fiber termini can detach from the on-board module to allow service work to the board module or fiber as necessary. The mezzanine I/O cards are designed and fabricated to meet the rigors of military and harsh environments.
In addition, Micropac is certified to MIL-PRF-38534 through class H & K. This VMX card provides enhanced power, size, and mass reduction over conventional non-optical transceiver modules and copper-based solutions.
850 nm VCSEL transmitters
Mezzanine pluggable FMC demo card
4 optical ports per PIC (plug in card)
10 mm mezzanine height
I2C interface
DDMI compliant with SFF-8636
+3.3 VDC operation
Suitable for applications in
Evaluation and development
Radar, remote sensing and image processing
Signal intelligence
Real-time data
Ride share and rapid deployment programs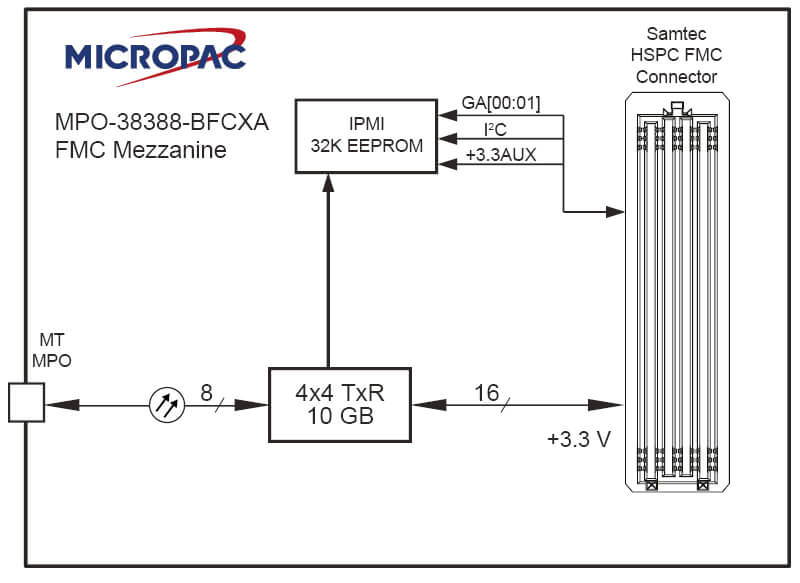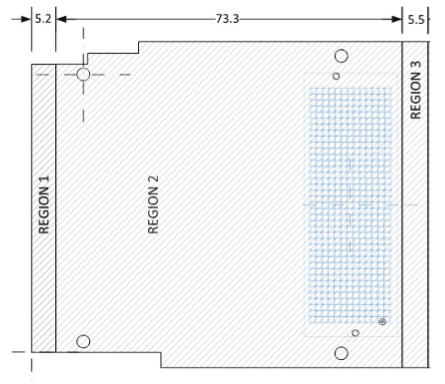 Plug-in card dimensions: 69mm x 88.5mm x 10mm (convection cooled)
Operating data rate: 10 Mb/s to 10.5 Gb/s per channel
Removable connector/fiber termination with passive alignment
850 nm VCSEL transmitter
Supply voltage: 3.3 V
Path to radiation tolerant circuitry
Temperature range: -40 to +85°C
Module management, controls, and diagnostics through I²C using SFF-8636 DDMI
High Rx dynamic range with AGC (Automatic Gain Control)
Individual channel power-down and squelch
HSPC pin connector Searay ASP-208571-01 made with VECTRA E130 (passed NASA outgassing specifications)
FMC product kit order number - MPO-38388-BFCXA-Kit01
| | |
| --- | --- |
| MPO-38388-BFCXA-01A | FMC One transceiver 1x4 installed (4 channels) |
| MPA12003-03 | 12 fiber Ribbon, MPO12 plus bayonet connector to TxR |
| MPF10010-01 | MC standard bracket with flange MPO plus dust shutter adapter, black |