Oscilloscopes
Oscilloscope measurements you can count on from award-winning manufacturers.
Whether you need high signal integrity, a portable form factor, or an affordable oscilloscope, APC has got you covered. With our broad range of Keysight Oscilloscopes, you are sure to find the right scope no matter where you are in the development cycle. APC Technology Group is a leading UK Keysight Premium Plus Partner. As a long-standing authorised Keysight distributor, APC provides a range of higher specification Keysight test equipment not available from other UK distributors. APC also offer exclusive discounts and supported pricing, with technical expertise and product support from our team of in-house engineers and test equipment experts.
Browse Oscilloscope Categories
---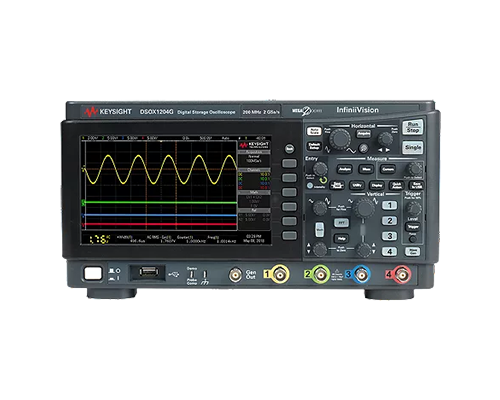 ---
50 to 200 MHz
Professional-level technology in an entry-level instrument, including Bode plotting (FRA) & mask testing.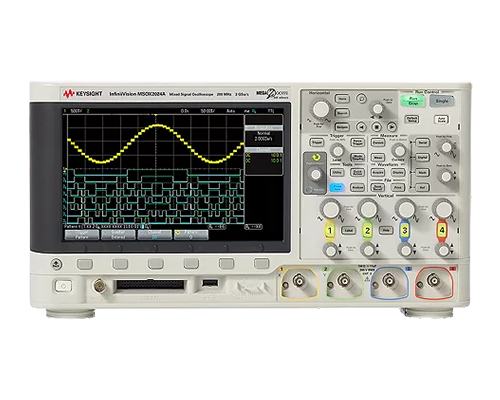 ---
70 to 200 MHz
See more with additional capabilities like mixed signal analysis (MSO), advanced math, and advanced triggering.
Can't Find The Model You're Looking For?

As Keysight Authorised Premium Plus Partners, we offer an extensive range of Keysight's high-specification products. Explore our full inventory of Keysight Oscilloscopes, or ask one of our test and measurement experts for sales advice and technical support.
Whether you require an oscilloscope with 2 or 4 channels, with bandwidths from 50 MHz to ultra high-performance 8 GHz or with a varying amount of digital channels, APC can take care of your needs with Keysight's Mixed Signal Oscilloscope (MSO) range.
Not sure which Oscilloscope you need?
There are various types of oscilloscopes available, each designed for specific applications and measurement requirements. Here are the different types of Oscilloscopes along with a brief description of what they do:
Analog Oscilloscope:
Displays voltage waveforms as a continuous waveform on a cathode ray tube (CRT).
Suitable for general-purpose waveform observation and analysis.
Offers real-time viewing of signals but limited functionality compared to digital oscilloscopes.
Digital Storage Oscilloscope (DSO):
Converts analogue signals into digital form for processing and storage.
Can capture and store waveforms for later analysis.
Provides various measurement and analysis functions, such as FFT, waveform averaging, and triggering capabilities.
Offers greater flexibility and features compared to analogue oscilloscopes.
Digital Phosphor Oscilloscope (DPO):
Similar to a DSO but utilizes a specialized phosphor screen to provide better waveform visualization.
Offers higher waveform update rates, allowing the observation of fast-changing signals.
Mixed Signal Oscilloscope (MSO):
Combines the capabilities of a DSO with the ability to analyze digital signals.
Can capture and display analog and digital waveforms simultaneously, which is ideal for analyzing mixed-signal systems.
Sampling Oscilloscope:
Uses a technique called "equivalent time sampling" to reconstruct high-frequency waveforms.
Suitable for measuring repetitive signals with high bandwidth requirements.
PC-Based Oscilloscope:
Utilizes a computer's processing power and display to function as an oscilloscope.
Typically consists of an external hardware interface that connects to the computer.
Offers the advantage of software-based analysis and storage capabilities.
Handheld Oscilloscope:
Portable and battery-powered oscilloscope designed for field and on-the-go measurements.
Its compact size and rugged construction makes it suitable for troubleshooting and maintenance tasks.
Digital Oscilloscope with Arbitrary Waveform Generator:
Integrates the functionality of a digital oscilloscope with an arbitrary waveform generator (AWG).
Allows the generation and simultaneous analysis of waveforms, making it useful for stimulus-response testing and characterization.
High-Bandwidth Oscilloscope:
Designed for applications that require precise measurements of high-frequency signals.
Offers a higher bandwidth compared to standard oscilloscopes, enabling accurate waveform capture and analysis at higher frequencies.
Ask About Our Premium Plus Partner Prices
Get in touch with a member of our team today and take advantage of our Higher-Specification Premium Plus Keysight test and measurement equipment range with exclusive promotions and discounts.