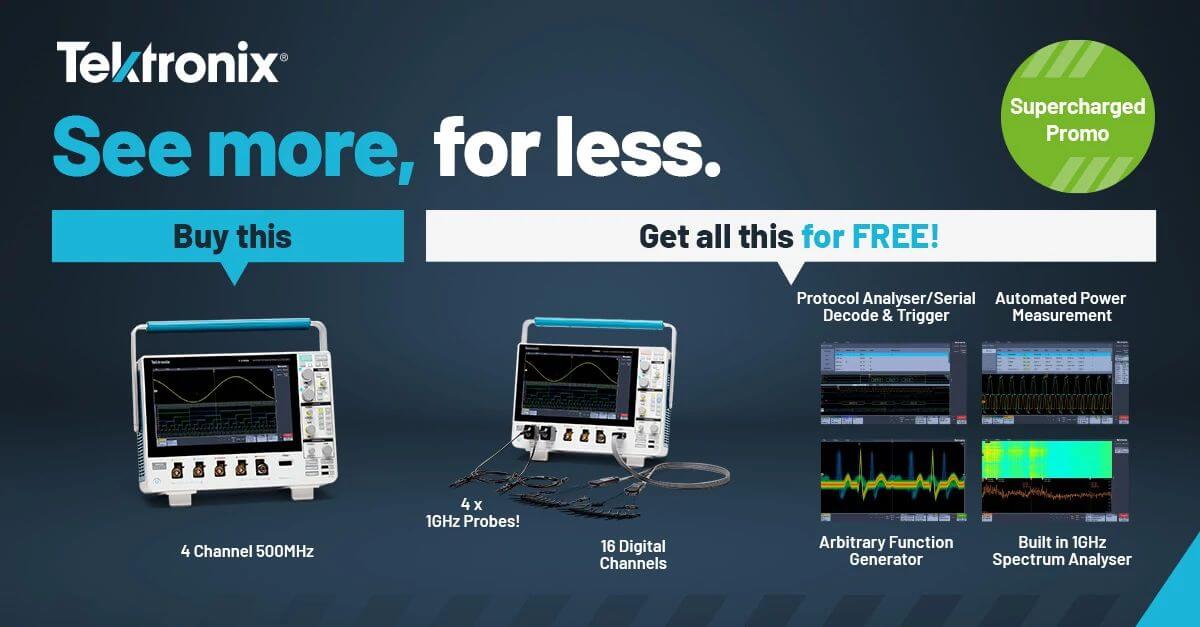 Supercharged Tektronix 3 Series Mixed Domain Oscilloscope Promotion
Receive FREE OPTIONS when you purchase a Tektronix 3 Series oscilloscope!
Valid until: 30th June 2024
There is only one oscilloscope that is not only "mixed signals" but also "mixed domain": the 3 Series MDO.
In fact it features not only a 11.6-inch HD (1920x1080) capacitive touch display, up to 4 inputs with optional 16 digital channels but also a real built-in spectrum analyzer (in 1 GHz or 3 GHz versions).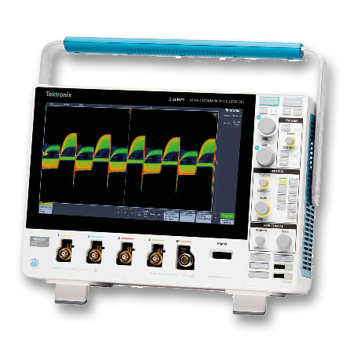 For a limited time, if you purchase a qualifying 3 Series MDO you will receive:
FREE bandwidth upgrade to next level higher bandwidth
PLUS:
THREE FREE Options:
3-BND - Application bundle with serial decode buses such as I2C, SPI, CAN, LIN & USB plus automated power analysis
3-MSO - 16 digital channels; free up your analogue channels and see more signals by upgrading to mixed signal capability
3-AFG - Arbitrary function generator with 13 predefined waveforms and arbitrary waveform generation
And if you are a customer qualified as EDUCATIONAL, you can also receive our special 15% discount!
Tektronix' new 3 Series MDO oscilloscopes offer the largest, highest-resolution touch displays in their class. So, you can see even more of your signal. Plus, much more.
For more information about this supercharged offer, speak to one of our dedicated Tektronix experts:
Terms and Conditions
3 Series MDO
Purchase a qualifying 3 Series MDO main unit and receive the following free of charge:
Bandwidth upgrade to the next bandwidth level

Free options of: 3-BND, 3-MSO and 3-AFG
General Terms
Offers available on new products only. The promotion does not apply to Tektronix Encore ex-demonstration or reconditioned products,and cannot be combined with any other offer. The offer can be combined with the Education discount, qualifying customers only. Tektronix reserves the right to cancel this program at any time by posting the change or cancellation to uk.tek.com/promotions. Offer valid in Europe, Middle East and Africa only. Good for qualifying orders placed up to and including 30th June 2024. Copyright ©2022, Tektronix. All rights reserved. Tektronix and Keithley products are covered by U.S. and foreign patents, issued and pending. Information in this publication supersedes that in all previously published material. Specification and price change privileges reserved. TEKTRONIX, TEK and Keithley are registered trademarks of Tektronix, Inc. All other trade names referenced are the service marks, trademarks or registered trademarks of their respective companies.