Tektronix TBS1000C Digital Storage Oscilloscope Offer
Free bandwidth upgrade: Get a TBS1202C for the price of a TBS1102C for a Limited Time Only*
The TBS1000C offers affordable performance in a compact design, the TBS1000C digital storage oscilloscope provides the features, versatility and durability required by today's educational institutions, embedded designers, and maker community.
*Offer ends 30th September 2022.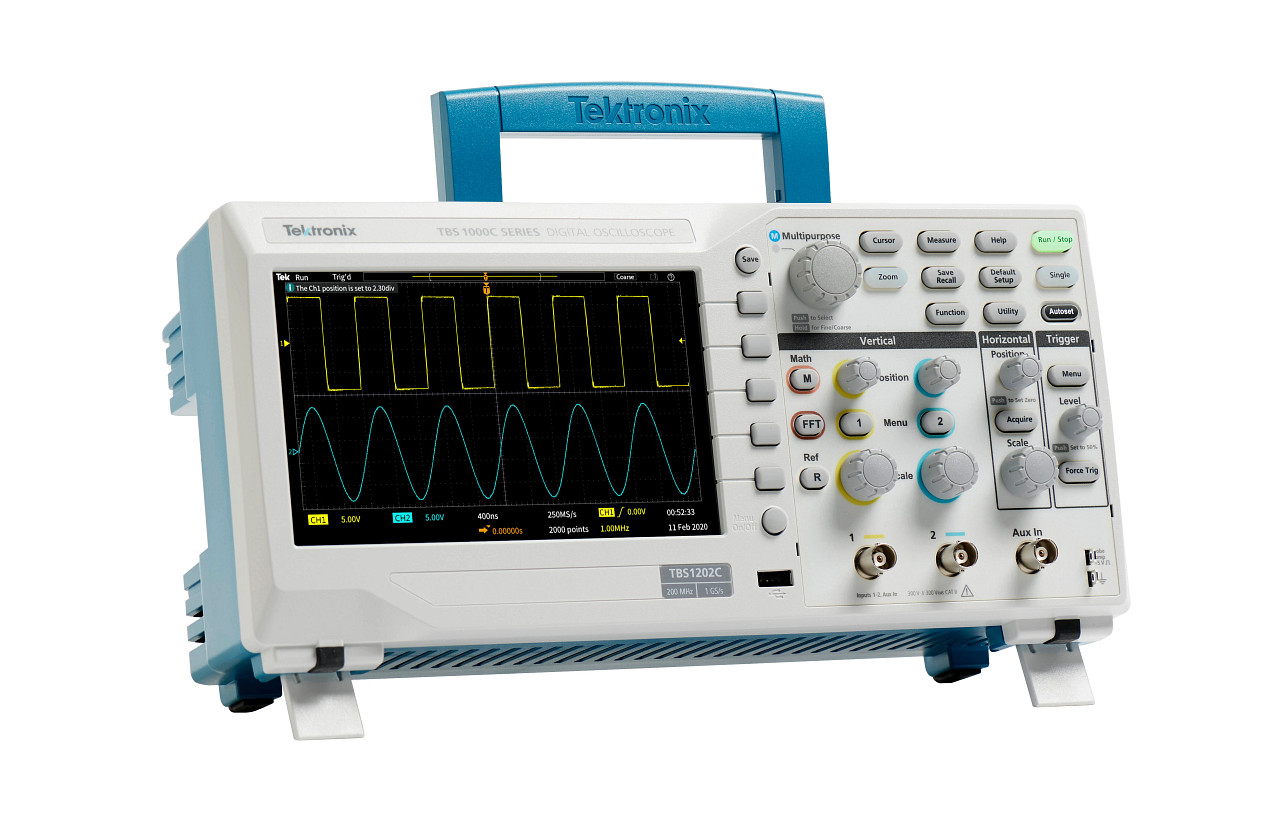 The TBS1000C key features:
7-inch WVGA color display with 15 horizontal divisions to display 50% more signal
Compact design; improved user and programming interface
Integrated courseware system integrates lab exercises with step-by-step instructions for students
HelpEverywhere® system provides useful tips and hints throughout the user interface
Triggering and acquisition modes for troubleshooting a variety of mixed signal designs
Educators can disable the autoset, cursors, and automated measurements to facilitate teaching basic concepts
Take your measurement accuracy seriously? Why not take advantage of our fixed Calibration packages at the same pricing offer!
Purchase the TBS1202C with option C3 and save 37% off the cost of the additional calibration option too.
Terms and Conditions
TBS1202C
This offer applies to only new TBS1202C oscilloscopes. For a limited time, customers can purchase a TBS1202C for the same price as the TBS1102C
TBS1202C C3
This offer applies to only new TBS1202C C3 orders in conjunction with the purchase of a TBS1202C oscilloscope. For a limited time, customers can purchase a TBS1202C with option C3 at a discounted price. The discount off the C3 option would be 37%. The C3 discount promotion is only available to end customers based in the European Union or United Kingdom.
General Terms
This offer is available on new products only. The promotion does not apply to Tektronix Encore ex-demonstration or reconditioned products, and cannot be combined with any other offer.
APC Technology Group and Tektronix reserve the right to cancel this program at any time. Offer valid for customers in the UK buying from APC Technology Group. This offer does not affect APC's standard Terms and Conditions of Sale. Good for qualifying orders placed up to and including 30th September 2022.
For more information about this offer, speak with a member of our dedicated Tektronix team: