Overcome PTPv2 Configuration Issues Between Grandmasters and Slaves in Core Network Environments
Overcome the challenges of configuring Grandmasters and Slaves to achieve the relevant specifications in larger scale broadcast networks
PTPv2 is a vital part of the broadcasting synchronisation solution, forming an integral part of the ST2059-2 and AES67 specifications within a broadcast environment. Distributing these packets comes with its own unique challenges.
For PTPv2 to work correctly, all equipment in the network needs to be PTPv2 compliant. Due to ongoing worldwide logistics issues and silicon shortages, lead times for boundary and transparent clocks for the distribution of PTPv2 have extended to multiple tens of weeks. In turn, this has led to delays and a higher focus on the equipment being installed into the network. Network architects and project planners are compromised with inflated costs and extended lead times - resulting in projects being put on hold or terminated altogether.
Different manufacturers of PTPv2 aware switches have different qualities of implementations of the PTPv2 stack. Some manufacturers are implementing a hardware timestamping solution, whilst others are implementing a software-based timestamping solution.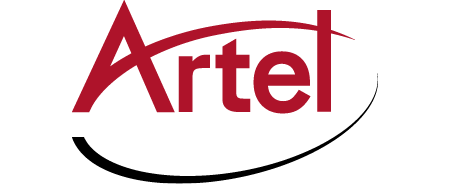 One such manufacturer who has opted for a hardware-based timestamping solution is Artel Video Systems. Artel's Quarra series of PTP switches implement a hardware timestamped solution with <10ns resolution of timestamping accuracy for the PTPv2 packets generated. For users in time-critical environments, this enables them to make use of every nanosecond for video and audio sync requirements.
Alongside the higher accuracy, the Quarra series can natively handle the relevant profiles for 2110 solutions; 2059-2 for video synchronisation and AES67 for Audio synchronisation, with each port on the switch being able to be individually configured for each profile in Boundary clock mode. Since the Quarra is designed specifically around PTPv2, the lead times are more reasonable than other offerings on the market, with average lead times falling below 2 months at the time of publication.
Artel Quarra PTP Ethernet Switches

Quarra 1 Gbps Compact
PTP Ethernet Switch
---

Quarra 10 Gbps Rackmount
PTP Ethernet Switch
PTP boundary: Segmentation of a broadcast network is vital. With the Quarra, you can keep the negotiation traffic under control.
Ethernet: SFP connections add extraneous cost to audio infrastructures. Ethernet connections that support 100 Mb/s connections allow a number of small edge devices to move large amounts of data with accurate PTP synchronisation.
Rock Solid IGMP: Supporting all versions of IGMP allows seamless joins of senders and receivers.
Size: The Quarra 10 port version allows users to leaf to more places with less cable.
Lighting fast recovery time: 18 seconds VS 3 minutes (for some competitor products)
World-class support: First line support from APC's specialist team, backed by support from Artel's own engineers and specialists.
Ease of configuration and security
Within the broadcast industry, ease of configuration and disaster recovery are two topics of concern when it comes to PTPv2 timing architecture. Although there are existing profiles for PTPv2 within the broadcast industry, getting the proper configuration between the Grandmasters and the Slaves can still pose a challenge to meet the relevant specifications, especially in larger-scale networks. The Quarra series can be quickly commissioned and configured, thanks to its onboard web interface, with quick select options for network configuration and PTPv2 configuration. With the Quarra being able to recover within 17 seconds in addition, it allows ease of mind when installing the Quarra in core network environments.
Need technical guidance on something specific?
Our team of experts have over 20 years' experience specifying and designing bespoke timing systems. As one of the UK and Ireland's leading distributors of PTP-compliant switches, Grandmasters and Slave devices, our team can advise and support on a wide range of future-proofed timing systems.