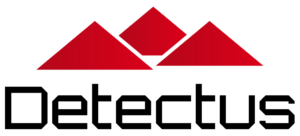 Easy-to-use EMC scanners for pre-compliance testing in the design phase
Ideal for quickly locating and fixing EMI problems prior to full-scale manufacturing.
Since the 1990's, Swedish company Detectus has been a world-leading supplier of EMC-Scanner products. Detectus is now an integral part of Pendulum Instruments.
The Pendulum/Detectus series of EMC-Scanners are powerful pre-compliance tools for measurement and analysis of Electro-Magnetic Interference (EMI). The scanners feature repetitive high-resolution scanning of emission (and optionally also immunity) down to 25 μm steps. You can scan even inside an IC (option).
The frequency range is 3, 6 or 10 GHz with the Pendulum near-field probes kits but can be extended by using third parties' probe kits. The system has no built-in limitation so if your spectrum analyser and probes can handle it, you can measure from DC to daylight.
The powerful Detectus scanning software (DSS) is easy-to-use, allowing users to control the entire scan process, visualisation, and documentation of results. The driver library supports hundreds of spectrum analysers, and new models from leading manufacturers are continuously being added.
Detectus scanners come in different sizes to accommodate test objects of various sizes. Scanning can be made in 2D, 3D, or even 4D (3D movement plus 0-360 degree rotation of the probe head).
The Detectus EMC Scanner range
SCN Series
Detectus SCN Series EMC scanners with 2D or 4D scanning capabilities.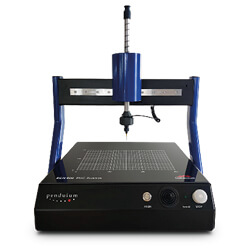 HRE Series
Detectus HRE Series High-resolution EMC scanners with 3D or 4D scanning capabilities.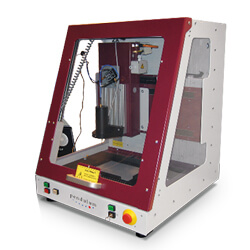 Benefits of using a Detectus EMC Scanner
Detect EMC problems before the test lab does save time and money by avoiding re-visits
Repetitive and consistent measurements enable easy comparative measurements between design alternatives
Improve the quality of design, by eliminating internal EMI hot spots
Great visualisation of emission and immunity hotspots, for any frequency, in the powerful and easy-to-use software
Scanning in multi-dimensions 2D, 3D or 4D (3D plus rotation of field probe tip), gives extra valuable info on EMI noise sources
Scanning in step sizes down to 25 μm enables internal measurements in ICs
Supporting 100+ different spectrum analyser models
New drivers for spectrum analysers on demand when new models are introduced
See electromagnetic fields
The easy-to-use and feature-rich DSS software let you measure and visualise the intensity and the location of a radiation source at a component level – or even inside a component. The results of such a measurement can be shown as two or three-dimensional coloured maps. The measurements can easily be repeated creating an objective, comparative measurement result.
Measurements can be saved and later compared with board-level changes, thanks to the exact repetitive scanning. The software even allows subtracting of two scanning results to emphasise the true difference of any board layout or component change.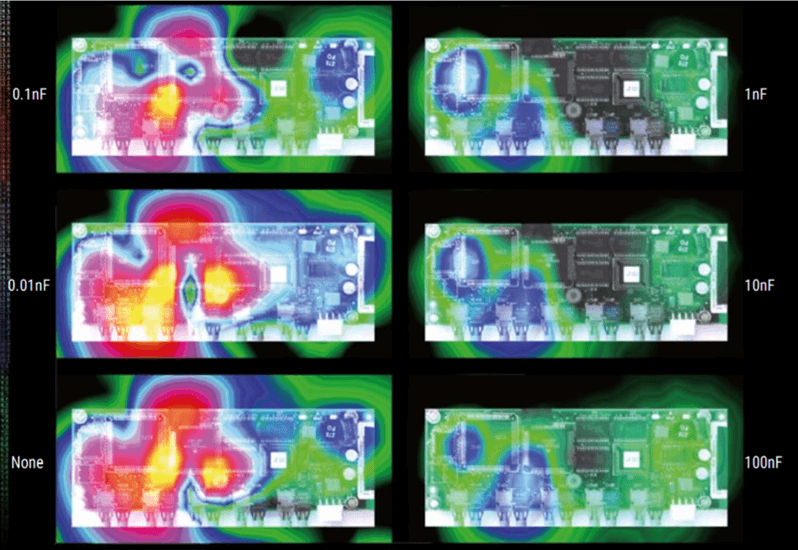 Using a Dectectus EMC scanner during the early stages of R&D or product design enables you to detect potential emission and immunity problems before they become integrated into the product and are expensive to correct.
If a product has failed a test at a test house, normally you only learn which frequency failed, not the location of the noise source. Detectus EMC scanners can help you find the source, and repeated measurements while redesigning your product helps you lower the emission levels. Similarly, if your problem was immunity, you can (optionally) scan for sensitive areas and repeat measurements while strengthening your product.
You can compare different design solutions and make comparative measurements of electromagnetic emissions.
Detectus EMC scanners can also help maintain a high quality in the production line. You can make measurements on samples from the production line and easily compare them with a reference. That way you can make sure that, for example, a change of supplier of a component doesn't negatively affect the emission spectra.
Request a Detectus EMC Scanner demo
Get hands-on with the Detectus range by requesting a technical demonstration from a member of our team.