Holt release a new dual-channel MIL-STD-1553 FPGA mezzanine card designed for small space applications
For anyone building an FPGA based system that requires a 1553 transceiver and transformer, the Holt HI-25850 achieves this in a single piece of silicon.
Holt Integrated Circuits have announced the introduction of a new dual-channel MIL-STD-1553 mezzanine card featuring it's HI-25850, a 3.3V MIL-STD-1553 dual transceiver with integrated transformers. The transformers are configured to provide a transformer-coupled MIL-STD-1553 interface. Integration of the transformers in the IC package provides significant board space saving.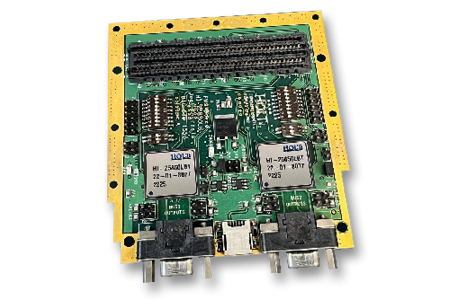 The ADK-25850FMC-2 development kit is a dual channel MIL-STD-1553 FPGA Mezzanine Card (FMC) reference design using standard IAW VITA 57.1 form factor.
The card interfaces to a host or FPGA using FMC connectors or two PMOD headers. The HI-25850 transceivers support digital I/O of 1.8V, 2.5V or 3.3V, enabling more flexibility for host or FPGA selection, and are MIL-STD-1553A/B/C, MIL-STD-1760, SAE AS15531A and STANAG 3838 compliant.
The card provides various jumpers and DIP switches to demonstrate the capabilities of the HI-25850. For example, the device features "tail-off" compensation, which minimises output offset caused by timing mismatch or transmit signal path propagation differences resulting from board layout. This may be done in two ways, by input data synchronisation or by applying a fixed offset to the output via three digital inputs.
The HI-25850 transceiver also features an optional receive output pulse extension. When this feature is enabled, receiver output pulse widths do not drop below 180ns, greatly simplifying decoder design and enhancing noise performance.
A single channel version, ADK-25850FMC-1, which provides a single dual redundant MIL-STD-1553 interface, is also available.
"Holt's integrated transceiver-transformer combination is the perfect choice for PMC or XMC cards. This kit demonstrates its key features and is an excellent reference design for MIL-STD-1553 application development."
Sean Sleicher | Director of Business Development at Holt Integrated Circuits
To request further information on Holt's ARINC 429, CAN (ARINC 825), MIL-STD-1553 and other product lines, start a technical conversation with a member of APC's specialist High-Reliability component team:
Holt Integrated Circuits is a major supplier of ICs for avionics and military aircraft data bus and display applications. The company's products are specified by more than 400 manufacturers worldwide and are employed in flight control, navigation, engine management, communications, safety equipment, and in-flight entertainment systems.