Introducing the new Keysight E36150 Series of 800W Bench Power Supplies
Designed to address all of your high-power R&D, design, prototyping and design validation needs.
Available from APC Technology Group, Keysight's latest addition to its DC Power Supply range – the E36150 Series - delivers 800W of useable power in a safe and easy to use manner. With two models in the range (E36154A and E36155A), the E36150 Series is an affordable way to meet high-power testing requirements.
Built for performance and packed with advanced characterisation capabilities, the E36150 Series is a one box test solution aimed at research and development, product design validation and prototyping.
Keysight E36150 Series Key Features
800W
1 Channel
Two autoranging models

E36154A: 30V, 80A
E36155A: 60V, 40A

USB, LAN and GPIB (upgradeable option)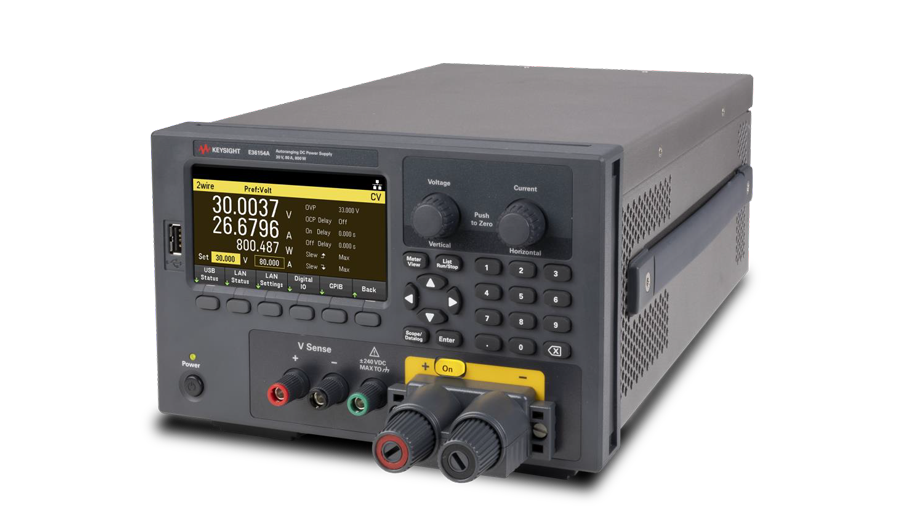 Detachable high current front binding post
Both the E36154A and E36155A feature a detachable high-current front binding post for easy and safe access to the IEC61010-compliant output ports. This feature ensures safety for users with a built-in thermal sensor and auto-protection mechanism. The series also features a separate control knob for voltage and current, in addition to voltage/current displays for all channels.
More usable power on the bench
The models in the E36150 Series both have capabilities that provide more current and higher power at all voltages, offering test engineers higher levels of flexibility and more applications. The auto-ranging architecture greatly increases V-I combinations at Pmax, whilst peak power handling allows short bursts of load spikes/start-up currents of up to 3X of max power at 2400W - extremely useful for DUT with electromechanical components.
When it comes to low current measurement, the E36150 Series can capture the extreme low end of highly dynamic current ranges up to μA resolution.

Best in class overall performance
Keysight's E36150 Series has been designed to deliver accurate, fast and reliable results. An adjustable slew rate allows engineers to control unwanted inrush current to ramp voltage over time, protecting sensitive devices.
Accurate voltage output and measurement is achieved by 4-wire remote sensing. This ensures actual selected voltage is provided to the load by compensating errors on voltage drop in the leads. The sense leads also provide accurate voltage readback measurements.
Other features of the E36150 series include:
Built-in current measurements with auto-datalogging capability
Over-voltage/current/temperature protections via overlimit auto-monitoring and shutdowns with front panel lockout
Fast and accurate programming – output and transient response speed and accuracy to achieve stable output power for DUT
Low power supply output noise – Clever circuit design and digital filtering provide good stability and low output noise even on an 800W power supply
Buy from a leading UK Keysight Premium Partner
When it comes to providing affordable, yet immensely valuable electronic test equipment to fulfil your high-power testing requirements, APC's team of test and measurement experts undertake regular training in Keysight products and their applications. Our field-based sales team provide both in-house and remote product demonstrations, advice on selecting the right Keysight product to meet your exact test requirement and technical guidance on how to get the most from your equipment.
Keysight Technologies is a leading manufacturer of test and measurement hardware and software for benchtop, modular, and field instruments, including oscilloscopes, multimeters, logic analysers, signal generators and spectrum analysers. As a Keysight Premium Plus distributor, our team of experts have enhanced product knowledge and can offer demonstrations and technical insight into an expanded range of Keysight equipment.