Keysight Higher-Specification Products Now Available From APC Technology Group
Explore All the Possibilities of APC's Higher-Specification Product Range by Keysight Technologies.
APC Technology Group are excited to announce access to an exclusive range of Keysight Higher Specification test and measurement products, which are not widely accessible to customers in the UK from standard distributors. Previously, this range of test equipment was only available to purchase directly from Keysight Technologies.
As a leading UK Keysight Premium Plus Partner APC's specialist test equipment team can work with customers who require high-end test and measurement products for use across a wide variety of applications, including communications, aerospace, defence, automotive, energy, semiconductor and general electronics.
In today's rapidly changing market, it's more important than ever to have a trusted distributor who can provide innovative solutions to keep you ahead of the competition. At APC Technology Group, we are constantly expanding our Keysight product range to provide you with the latest, most advanced tools for your test and measurement needs.
With our latest Keysight product line, we are confident that we can help you meet your challenges and exceed your expectations. If you would like to learn more about our Keysight higher specification product range or any of our other products and services, please contact our team of experts. We would be happy to discuss your specific needs and provide you with a customised solution.
The Keysight MXR Oscilloscope is a compact, portable oscilloscope that is ideal for field applications. The Keysight MXR Series has a bandwidth of up to 6 GHz and a sample rate of an immersive 16 GSa/s. The MXR Oscilloscopes also features a built-in waveform generator, making it a versatile tool for a variety of applications, not to mention the Keysight MXR range boasts 8 channels, 8 instruments integrated in one, hardware accelerated plotting, and is fully upgradeable with no limitations.
The Keysight AC6900 provides a complete AC and DC power solution by combining the capabilities of a multimeter, harmonic analyser, and power analyser in one instrument. The Keysight AC6900 provides single-phase and three-phase AC power supplies to help you test a variety of AC-powered devices.
The Photovoltaic Array Simulator is a benchtop power supply that can generate up to 1 kW of power. It is designed for testing and evaluating photovoltaic modules and systems. The AC Power Sensors are designed for use with Keysight's InfiniiVision and InfiniiVision X-Series oscilloscopes. The PV8900 Series offer a wide dynamic range and high accuracy, making them ideal for power measurement applications.
The Keysight 14565B device characterisation software provides a graphical user interface to easily control the Keysight 66300 series mobile communications DC sources and measures device current draw. Current drain analysis allows you to characterise current draw from a battery and make tradeoffs in design that impact the current drain and battery life. With current drain analysis, you can log current drain measurements for up to 1,000 hours and perform statistical CCDF analysis.
Versatility has never been faster - there's an art to the tradeoffs you make when you need to integrate your test system quickly, test your products faster, and stay within budget. Keysight's small, flexible, and market-leading-fast APS N6900 Series DC power supplies with VersaPower architecture can make those trade-offs easier. The Advanced Power System (APS) N6900 Series power supply is ideal for automated test equipment (ATE) applications where high performance is critical. Adding any combination of the four performance options will increase performance where you want it most.
The MP4300A Solar Array Simulator Series offers an efficient and reliable way to test power management systems for spacecraft and satellites. With its accurate emulation of environmental and operational conditions, you can quickly validate any design modifications and accelerate innovative solar array designs.
The MP4300A Series offers two classes of 1 kW solar array simulator modules — the highest performance Keysight MP4361A 160 V / 10 A auto-ranging module — and the Keysight MP4362A 130 V / 8 A fixed range module. The modular architecture enables you to quickly adapt to test requirement changes.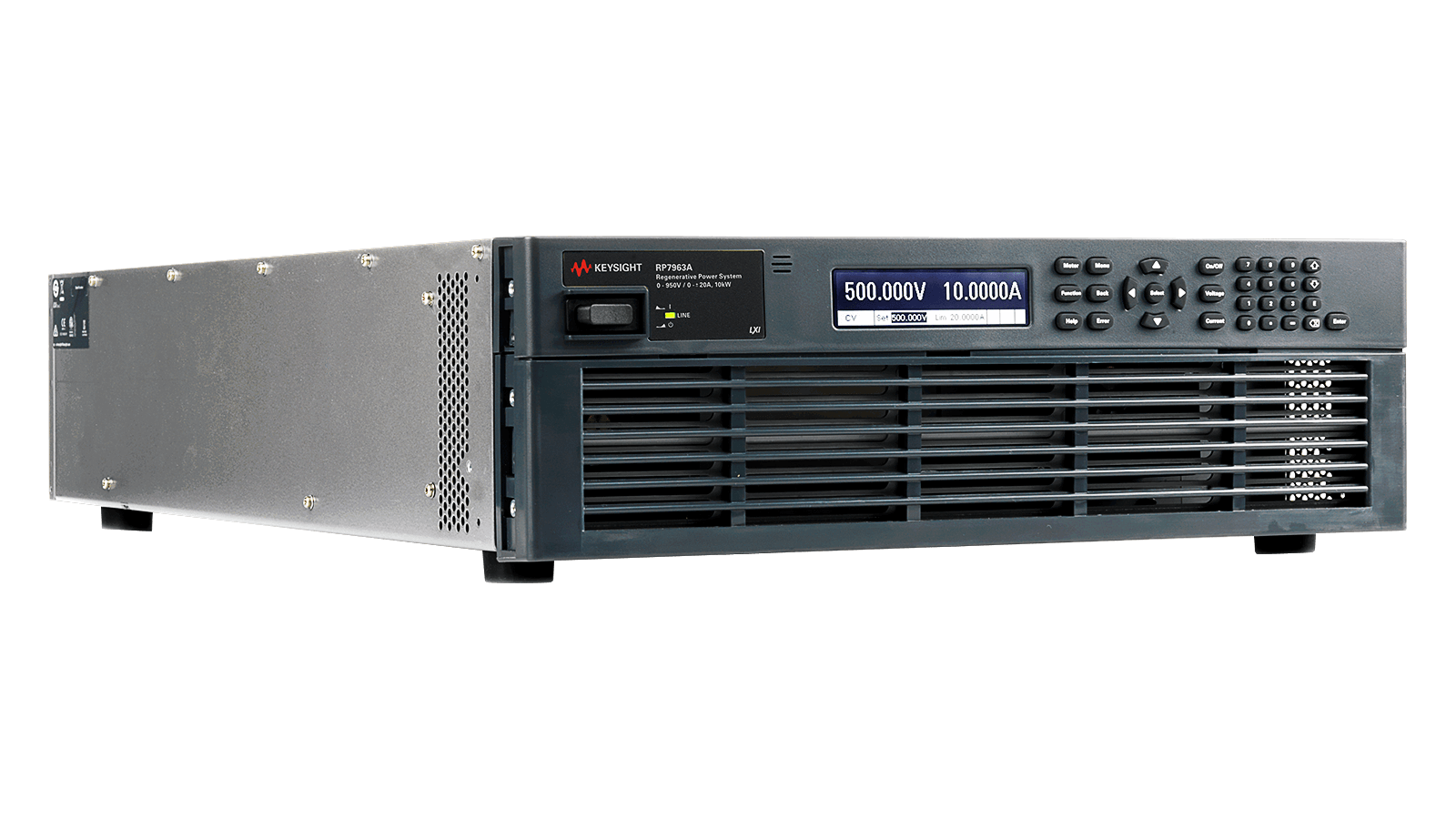 The Keysight RP7900 Series regenerative power supply provides both sourcing and electrical loading up to 30 kW. A bidirectional supply is ideal for testing energy storage and converters. Most electronic loads convert energy to heat which can cause a temperature rise in a rack — leading to measurement errors. A regenerative power supply safely returns the energy to the grid eliminating additional costs to remove the excess heat.
The Keysight IntegraVision power analyser is an intuitive combination of accurate power measurements and touch-driven oscilloscope visualisation. Within a single instrument, it delivers the dynamic views you need to see, measure, and prove the performance of your design.

APC technology group is a UK Keysight premium plus partner, with an exclusive range to the higher specification range of Keysight products. This enables us to provide our customers with superior technical knowledge and access to expert guidance to ensure you get the best results from your measurements. With our unrivalled expert technical knowledge, fast lead times and competitive pricing, we are your one-stop-shop for all your Keysight needs. Contact our friendly team of experts today.